Ginger Hotels : Chain Of Luxury!
12.04.2014 12:32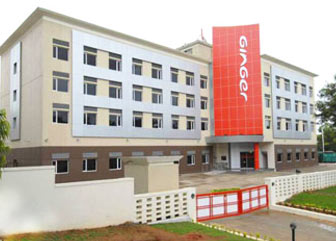 Ginger Hotels | Image Resource : hotelsofnewdelhi.com
The Indian Hotels Company Limited which operates some of the finest group of hotels in the company launched the concept of Smart Basics in June 2004 to provide facilities to meet the needs of travelers at an affordable price. This hotel established by Roots Corporation Limited and a part of Tata Group are specially designed Smart Basic Hotels that offer simple, convenient stay with a clean and no nonsense environment. Presently there are 29 hotels spread all over India located in different states. These are built next to IT companies and mostly cater to corporate or business travelers.
The rooms of Ginger hotels are spacious and specially designed to make your stay memorable. They have separate single room, double room and family room available with attached bathrooms well-stocked with toiletries, rain shower and 24 hours hot/cold water. They also have rooms for physically disabled guests. The rooms also have a 17-inch wall mounted flat-screen TV with 24 hours cable TV, a tea/coffee maker, AC, STD and local direct dial, voice dial and self-programmed alarm on phone, wardrobe and luggage rack, and so on. One can also find a water dispenser right outside the room to quench thirst anytime.
Ginger hotels offers a myriad of options when it comes to dining. The Square meal, a multi-cuisine restaurant offers buffet meals for breakfast, lunch and dinner at a reasonable rate. Also there is another option Dial-a-meal by which one can order from a selection of menus from local restaurants and have it at the hotel restaurant.
Kommentare